Hi all – Well March was a lion on both ends and April felt like we had a Tiger by the tail, but somehow, spring is finally here and May is just around the corner…Whew! Even when it is cold and rainy, it is nice to see no more ice and snow, and have the temperature be above 45! Speaking of things heating up – the performance schedule looks pretty full right now for May and the months beyond.
There are still a few spots left on the annual music cruise on the Stephen Taber, June 6 – 11. Join myself, Chicky Stoltz, Jed Kriegel and Captn/ Noah Barnes on the oldest and handsomest schooner in the fleet for a week of sailing, food, great music and classic boating adventures. This is our 5th annual trip and it is bound to be one of the best, so come on aboard!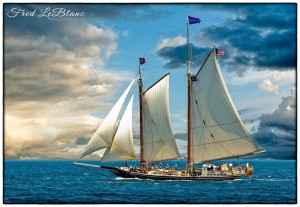 The Lay-Z-Gait band will play two more Wednesday Swing Stomps at Acoustic Artisans on April 30th and May 21st. On May 11 they will travel to the Stone Mountain Arts Center for the annual craft fair – the music will be going from 10 – 3.  On May 17th they are back on Portland to play an intimate show at Jay York's Last Church on the Left along with featured artist Jon Langford.
The Hadacol Bouncers have a merry month ahead of them too…On May 2 they kick off First Friday with a swing dance at the Woodford's Club in Portland. They then play a funeral in Cape Elizabeth in true New Orleans style on May 3. They play a  Swing Stomps at Acoustic Artisans  on May 14th, followed by an afternoon/evening concert at Inn By the Sea on May 25th. They finish up the month with a show at their home club – Local Sprouts, on May 31.
Tom Whitehead's piano trio will return to  Local Sprouts on May 24th with special guest, bassist Nate Therrien along with Don Whitney on drums. Nate is a multi-talented bassist, composer/educator from the New Hampshire Seacoast so you should take this opportunity to see him live in our hometown of Portland.
Tom continues his fun-filled work with Sean Mencher and his Rhythm Kings, playing most Sundays for brunch at  Local Sprouts. They will also be appearing at The Dogfish Cafe on May 10.
Well – there are probably a few more that will pop up..so get out and support live music – remember, it doesn't happen with out you and your support!  And, oh yeah…I am getting fired up to get our boat in the water…SOON!  So see you on the water or at your local watering hole in the near future!