The sound of WurliBird Jazz emulates the great organ trios of the 50's and 60's in which the keyboard player walks the bass lines in addition to the usual role of melody and harmonic support. Not only is this fun to watch, it also creates a very economical, sparse sound that swings hard with a funky edge. The trio usually features Wurlitzer electric piano, drums and either guitar or trumpet.  They cover a wide range of material; moving easily from classic jazz compositions by Wes Montgomery, Wayne Shorter and Thelonius Monk, to more contemporary sounds, pop standards and original compositions.
Band leader and keyboardist Tom Whitehead is a very adept Bebop player who is steeped in the Blues and New Orleans funk. He relishes the challenge of covering the bass role, emulating musical heroes like organist Jimmy Smith and pianist Dave McKenna. He is also not shy about digging into his Wah-Wah pedal to funk up the sound even more. Tom was a founding member of the Fogcutter's Big Band; he plays solo piano at a variety of local establishments, and is the lead singer, rhythm guitarist and accordion player in the Lay-Z-Gait western swing band.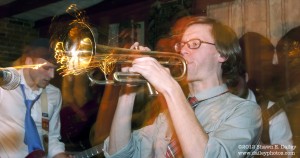 Joining the trio, when he is available, is the versatile, engaging trumpet player, Zachary Lange. Zach's command and control of his instrument is at once inspiring and seductive. His melodic sense is extremely sophisticated and fluid and his affinity for the Hard Bop School of playing brings a burning intensity to his sound. Zach is very active in the music scene of Portsmouth, NH – playing in any number of local jazz and funk groups, including the Publik House Nonet, the Zach Lange Sextet and the Soggy Po' Boys.
(Photo of Zach Lange by Shawn Dailey)